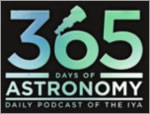 After listening to the International Year of Astronomy Podcasts for a year, I found myself saying to myself one more time: I should do one of these. OK, so I did. The organizers had decided to extend the project for another year and that would give me some time to put some ideas together. I was thinking about something like a talk on my reflections on my experience with astronomy and some of the deeper meanings that a contemplative astronomical experience might bring. Then I took a gander at the calendar for the upcoming year to see how many slots were open. To my surprise, there were not that many days that had not been reserved. So, I quickly shot off an email to Nancy Atkinson at 365daysofastronomy.org and gave her a hastily assembled proposal, hoping I wasn't too late. She responded the next day with a welcoming tone, assuring me that there were still slots available and that they really needed some podcasts for dates early in the year that hadn't been claimed, yet. Uh oh, now what do I do? They actually expect me to do this!
I spent the following weekend composing my script, and read it over a few times just to get the feel of it. It felt so cool, imagining my serene, deep voice gliding through the words, mixed with some ethereal music. This is gonna work.
The next weekend, I read through the online tutorial on the 365DOA website and did some research on a good computer microphone. I found just what I was looking for at the local Best Buy, installed Audacity on my laptop, and set out to make the recording. It was Sunday afternoon, and everyone in the house was napping. I set up an impromptu studio in a spare bedroom and started recording my script. I kept messing up and starting over. I got tongue-tied. Then I realized that I could just start over all I wanted and edit it later. I was nervous. My heart was beating hard and I couldn't catch my breath. I stopped frequently and took a deep breath to try to settle my voice. My mouth was dry and I was making clicking and whistling sounds with my voice that I'd never heard before coming out of my own mouth. What happened to the serene, deep DJ voice I had the weekend before? And then there was the noise. I didn't realize that my neighbors made so much noise! Every car driving by, every airplane flying over, even the heater fan made noise that spoiled the quiet background that I was seeking. About an hour later, I emerged from the "studio" with a hard drive full of recorded shreds of sentences.
It was a crash course in sound engineering. I tinkered with the Audacity software, finding all sorts of techniques for cleaning up the recording, editing out the junk and even removing the many whistles that popped up in my words. I found some nice royalty free music tracks and created short bits to play throughout my talk, accentuating the points I was trying to make. It was now well into the evening. I called my family together for an evaluation. They loved it. I mean, they really seemed to love it. I felt great. Whew!
Nancy had sent instructions and links for uploading the recording. I uploaded to the podcast server and emailed her that I my mission was completed. She responded a day or two later with a date. February 10. That was my day. I had about a month to wait, but that's OK.
Every so often I checked the website calendar. My listing finally came up. There was the title and my name, along with all the others on their assigned days. Each time I checked the website, I got a little more restless. Am I going to regret doing this? What if I get some snide comments? What if the podcast is sponsored by some skeptic who starts the podcast off on a completely diametric track? Before going to bed on February 9th I checked the listing one last time. It wasn't up yet.
The next morning, I was starting my routine and remembered the podcast. After brewing some coffee, I sat down at my PC and beheld the sight of my very first podcast. There was the title, the bio, the sponsor, the script, and of course, the button to click to listen. The sponsor was a physician who was celebrating his son's birthday. That's a nice sentiment. I sent out an email to my friends and co-workers with a link to the podcast.
By the time I got to the office, I had some email replies complimenting me on the podcast. Good friends say nice things. I listened to my own podcast at least a couple of times. It turned out well and it was a real hoot hearing Pamela Gay's intro and George Hrab's "This Stuff is Far" theme song with the lead in to–me.
What a day. It was an exciting and pleasant end to a novel adventure. I know that podcasts have a small audience. My website stats showed only a brief blip in hits. Shoot, even Steve Nerlich of cheapastro.com claims to only have around 50 followers. And, he is really smart, slick, funny and cool with that Aussie accent and all. So, I'll be lucky if anyone else that I know has even heard of 365daysofastronomy.org, much less listened to my little contribution. Then Outlook beeped at me with a new email that evening. It was the sponsor. The doc lives right here in town! He, too, had been worried about whom he'd be paired up with. After reading his kind remarks, I headed off to bed with a pleasant sense of mystery about how serendipitous life really is. Just the point I was trying to make in my podcast.